Museums & Libraries
Mystic Seaport (CT)
The Preservation Society of Newport County (RI)
Historic Newton (MA)
Heritage Harbor Museum (RI)
Homeland Foundation (NY)
New England Law Libraries Consortium
Kansas City Public Library (MO)
Providence Public Library (RI)
Aligning strategy,
identity, capacity, and facilities
with mission, vision, and values.
© 2019 Synthesis Partnership
All rights reserved
Museums & Libraries
Mystic Seaport, The Museum of America and the Sea™
Mystic CT
Strategy Identity Capacity Facilities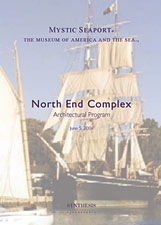 Founded in 1929, Mystic Seaport has long been recognized as the nation's leading maritime museum. In addition to an unparalleled collection of watercraft, and a coastal village assembled from historic buildings from across New England, Mystic Seaport has gathered extensive collections of maritime photography (over one million images) and two million other maritime artifacts. As competition for leisure time activity has increased and audience preferences shifted, outdoor museums such as Mystic Seaport have seen decreasing attendance levels. In response to this trend, the Mystic Seaport board of trustees and staff took action to understand the reasons for this decline and determine new approaches that would be relevant to contemporary audiences. Starting in 2002, they undertook a series of studies and planning sessions that have resulted in a comprehensive master plan. The determination was that to thrive, the Museum would have to transform their offering with an all-weather, all-season indoor facility capable of a wider range of exhibit content and delivery.
With little experience in creating a major new facility, Mystic Seaport hired Synthesis Partnership for a series of assignments. First we presented to the board an overview of the strategic, operational and financial issues they would encounter in the creation of a new indoor museum. We then guided the staff and board through the preparatory stages of the project: creating an architectural program and budget, identifying and selecting an architect and exhibit designer, negotiating client-favorable contracts with the chosen firms. We worked with staff and board committees throughout this process, and met with the full board frequently to guide and facilitate a shared understanding of issues, budget implications (capital and operating), constraints and opportunities.
The Preservation Society of Newport County
Newport RI
Strategy Capacity Facilities
The Preservation Society of Newport County owns and operates ten historic properties that receive over 600,000 visitors a year. For the past ten years the Society has used a seasonal tent for visitor reception and ticketing at The Breakers, their most visited property, but this does not offer a suitable introduction to the properties or entrance to The Breakers. Moreover, the only bathrooms easily accessible to visitors upon arrival are two portable toilets available on a seasonal basis. After touring The Breakers, visitors have no opportunity to refresh and restore themselves for a visit to another property. Synthesis Partnership was asked to guide the preservation Society through the conceptualization of a new welcome center, and then siting, programming and budgeting, selection of architects and designers, and ongoing guidance of the project. We also helped to guide the Society through an extended and contentious regulatory approval process.
Historic Newton
Newton MA
Strategy Identity Capacity
Historic Newton, a public/private partnership between the City of Newton and the Newton Historical Society, maintains historic properties and artifacts; promotes historic preservation; and presents public programs. Having concluded a major expansion into a second site, and facing some significant staff changes, the organization retained Synthesis Partnership to guide a strategic planning process with a focus on public programs and sustainability.
Heritage Harbor Museum
Providence RI
Capacity Facilities
Heritage Harbor Museum is a collaborative joint venture of many independent historical and cultural organizations to present the multicultural fabric of Rhode Island. The project began with two issues: small museums' lack of mainstream audiences, and costs associated with redundancy of administrative functions among them. The conversation quickly moved beyond sharing space to the appeal of telling many histories side-by-side to an audience immersed in a combined historical experience. Synthesis Partnership was retained to guide Heritage Harbor from the realm of a splendid idea to that of a well-structured business. Heritage Harbor had initially organized itself in an intentionally loose and flexible structure suited to an embryonic venture that needed to remain nimble as it explored the nature of what it wanted to become and achieve. With the imminent approach of substantial exhibit costs, major construction commitments, a broadening capital campaign and significant increase in staffing levels, there were compelling needs for structural changes in governance and management.
We analyzed both capital and operating budget assumptions, suggested changes in fundraising goals and accounting procedures, provided manuals of financial and personnel policies and procedures, and suggested revisions of the by-laws and of a participation agreement. We conducted a benchmark study of other consortium-based organizations in an effort to create an optimal model for productive cooperation among 19 very different organizations. Working with representatives of the member organizations, we crafted a new governance structure better suited to draw on the expertise and philanthropy of the larger community, and a management structure better able to support the goals of the member organizations.
Homeland Foundation
Amenia NY
Strategy Identity Capacity Facilities
The Homeland Foundation owns and manages a 1200-acre estate with a remarkable collection of artworks. The foundation's board had a variety of concerns on which they asked for guidance from Synthesis Partnership, including overall usage of the property, appropriate care for the artworks, security, agreements with other institutions, and development of publications.
New England Law Libraries Consortium
Strategy Capacity
Founded as a regional resource-sharing group, NELLCO's success in developing service-enhancing and cost-saving features attracted the attention of libraries far beyond New England. The pressure for growth, in turn, challenged the organization's core values of collegial interaction and networking. NELLCO asked Synthesis Partnership for assistance in developing a growth plan encompassing alternative strategies, organizational development, financial modeling, and facilitation of board evaluation of these issues.
Kansas City Public Library
Kansas City MO
Strategy Identity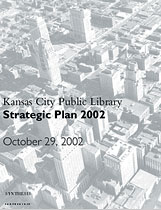 Kansas City Public Library is a ten-branch library system that encompasses three separate municipal jurisdictions. It emerged from the Kansas City school system two decades ago, and is still addressing issues that linger from that association. It has more recently created the Kansas City Library Consortium, a library automation service with 25 subscribing libraries including colleges, high schools, and public libraries. Synthesis Partnership conducted a strategic planning process for Kansas City Public Library, featuring extensive staff, user, and funder participation. Dan Bradbury, then director of the library, was especially pleased with how we shifted library managers from an administration-centered view to a user-centered approach to planning. We examined the library's identity and made recommendations for enhancing the clarity and appeal of its brand. A descriptive framework that Synthesis Partnership developed from our interviews and analysis crystallized a new, simple and clear mission statement, accompanied by value statements that, according to Bradbury, "bring a richness we didn't achieve in previous planning efforts."
Providence Public Library
Providence RI
Strategy Identity Capacity Facilities
Synthesis Partnership was retained by the Providence Public Library (PPL) for multiple and varied planning services, including a strategic plan, facility planning for its network of nine neighborhood branches, and financial modeling to allow management and board to explore alternative budget scenarios. We also provided extensive written material for use in the fundraising case statement and publicity materials. After our planning work was completed, Sam Frank was appointed by the Mayor of Providence to a task force charged with resolving ongoing tensions and disagreements between the PPL and the City.