Strategy
A vital and self-aware organization does not restrict strategic thinking to formal strategic planning processes. Each functional area has an ongoing process for addressing its own strategic issues, which then feed into an institutional strategic, business and/or program planning process at regular intervals. An inter-related cycle of planning across all areas provides a structure for communication, understanding and success.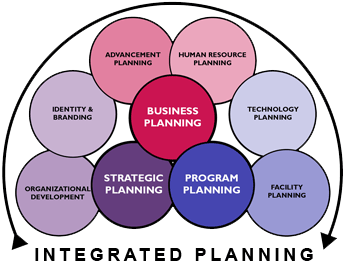 Integrated Planning
Strategic, program and business planning are the why, the what, and the how of a nonprofit's operations. While these approaches to planning overlap, they are distinct in primary purpose, effective process, and people who should be involved.
Enormous gains can be made when all areas of planning are developed in an integrated sequence, with a regular cycle of strategic, business and program planning. These primary domains are the foundation of integrated planning, but they also need to be amplified by insights from various specialized areas, as represented in this diagram.
For more detail download this webinar slide deck:
Beyond Strategic Planning: The Case for Integrated Planning
Strategic Analysis & Planning
There are many good models for strategic planning. Which approach will work for a specific organization depends upon:
the nature of the organization (many or few constituencies, and how large, engaged, and dispersed they are; size and nature of staff; role of the governing board)
the prior planning experience of staff and governing board
the life-cycle stage of the organization (new, thriving, stalled, troubled)
and the nature of the changes it is facing - or creating.
Traditional modes of strategic planning can be invaluable exercises, not only for planning, but also for board and staff development, and for consensus-building. However they require a certain degree of organizational maturity and a major commitment of time and energy.
When an organization has never tackled a full-blown strategic planning process, we often recommend starting with an alternative approach. Synthesis Partnership can perform a strategic analysis, followed by highly focused implementation planning. We add value efficiently by guiding management and board through issues of strategic priorities, program planning, business planning, and physical master planning; by tying all of these efforts into organizational mission and identity; and by laying out clear steps for implementation.
Once this solid foundation has been established, future strategic planning can productively assume a more traditional mode, with an internally-driven, hands-on approach reinvigorating the organization.
Planning Processes
The value of strategic planning is often challenged by those who see it as a cumbersome, energy-consuming process that results in an inflexible, thick, printed plan that is either too vague or too loaded with miniscule actions and gets put on a shelf to gather dust. Others point out that the origin of strategic planning is in the corporate world, and that the corporate way of thinking is not helpful in the nonprofit sector. Both of these criticisms derive from real experiences. However, a thoughtful, well-crafted strategic planning process for a nonprofit belies both of these arguments.
Unlike the corporate process with the same name, strategic planning for nonprofits can be defined as building consensus around mission. An inclusive, effective strategic planning process can
improve understanding of mission
serve as effective and efficient board and staff development
enhance morale of all stakeholders
identify critical issues and dismiss distractions
build both a case and momentum for fundraising
The completed plan, with measurable actions monitored regularly by the board, can serve as a trajectory for accomplishment, modifiable along the way.
For more detail see:
Critical Issues #1 Why Plan?
Critical Issues #2 The Secret Life of Surveys
Critical Issues #5 The Structure of Planning